Archaeological digs and berlin's urban environment: Remembering and forgetting the traces of the Second World War
Resumen
This essay examines how the memory of the second world war is mediated through archeology at two tourism sites in Berlin. Through data collected from site visits and observations, motifs of burial, authenticity, and historical value are found to engage directly with the ongoing negotiation of remembering and forgetting the second world war as it is embedded in Berlin's urban environment.
Citas
Anderson, B. (2015). Trümmer geographies. Performance Research, 20(3), 75-82.
Arnold-de Simine, Silke (2015). The ruin as memorial–the memorial as ruin. Performance Research 20(3), 94-102.
Assmann, A. (2006). On the (in)compatibility of guilt and suffering in German memory. German Life and Letters, 59(2), 187-200.
Assmann, J. (2011). Cultural memory and early civilization: Writing, remembrance, and political imagination. Cambridge: Cambridge University Press.
Buchli, V., & Lucas, G., (2001). The absent present. In V. Buchli, G. Lucas & M. Cox (Eds.) Archaeologies of the Contemporary Past (pp. 3-18). London: Routledge.
Clark, L. B. (2015) Ruined landscapes and residual architecture: Affect and palimpsest in trauma tourism. Performance Research 20(3): 83-93.
Connelly, M. (2001) Reaching for the Stars: A New History of Bomber Command in World War II. London: I.B.Tauris.
De Silvey, C. (2007) Salvage memory: constellating material histories on a hardscrabble homestead. Cultural Geographies, 14(3), 401-424.
De Silvey, C., & Edensor, T. (2012). Reckoning with ruins. Progress in Human Geography 37(4), 465-485.
Edensor, T. (2005). Industrial ruin: spaces, aesthetics, and materiality. Oxford: Berg.
Erll, A. (2011). Memory in Culture. London: Palgrave Macmillan.
Esbenshade, R. (1995). Remembering to forget: Memory, history, national identity in postwar East-Central Europe. Representations(49), 72-96.
Forest, B., Johnson, J., & Till, K. (2004). Post-totalitarian national identity: public memory in Germany and Russia. Social & Cultural Geography, 5(3), 357-380.
Fraser, E. P. (2012). Interrupting progress: ruins, rubble and catastrophe in Walter Benjamin's history (Master's thesis). University of Technology, Sydney.
Friedrich, J. (2008). The fire: the bombing of Germany, 1940-1945 (A. Brown, Trans.). New York: Columbia University Press.
Gould, M. & Silverman, R. (2012). Stumbling upon history: Collective memory and the urban landscape. Spatially Integrated Social Sciences and Humanities 78(5), 791-801.
Hewitt, K. (1983). Place annihilation: Area bombing and the fate of urban places. Annals of the Association of American Geographers, 73(2), 257-284.
Huyssen, A. (2003). Present Pasts: Urban Pamilpsests and the Politics of Memory. Stanford, California: Stanford University Press.
Judt, T. (1992). The past is another country: Myth and memory in postwar Europe. Daedalus, 121(4), 83-118.
Ladd, B. (1997) The Ghosts of Berlin: Confronting German History in the Urban Landscape. Chicago, Ill.: University of Chicago Press.
Langenbacher, E. (2010). Still the Unmasterable Past? The impact of history and memory in the Federal Republic of Germany. German Politics, 19(1), 24-40.
Leith, D., & Myerson, G. (1989). The power of address: explorations in rhetoric. New York: Routledge.
Marschall, S. (2015) Touring memories of the erased city: Memory, tourism and notions of 'home' Tourism Geographies 17, 3332-49..
McRae, L. (2002). The Postmodern Prometheus: Collective experience and the carnivalesque. Transformations (3).
Morgan, F. (2016) What lies beneath: Reading Melbourne's CBD through "The Another View Walking Trail". Philosophy, Activism, Nature 12, 69–80.
Moshenska, G. (2006). Scales of memory in the archaeology of the Second World War. Papers from the Institute of Archaeology, 17, 58-68
Moshenska, G. (2009). Resonant materiality and violent remembering: Archaeology, memory and bombing. International Journal of Heritage Studies, 15(1), 44-56.
Moshenska, G. (2015). Curated ruins and the endurance of conflict heritage. Conservation and Management of Archaeological Sites, 17(1), 77-90.
Schmitz, H. (2007). Nation of Victims: Representations of German Wartime Suffering from 1945 to the Present. Amsterdam: Editions Rodopi.
Sebald, W. G. (2004). On the natural history of destruction (A. Bell, Trans.). London: Penguin.
Stangle, P. (2008). The vernacular and the monumental: memory and landscape in post-war Berlin. An International Journal on Geography, 73(3), 245-253.
Steinmetz, G. (2008). Harrowed landscapes: white ruingazers in Namibia and Detroit and the cultivation of memory. Visual Studies, 23(3), 211-237.
Taberner, S. & Berger, K. (2009). Germans as victims in the literary fiction of the Berlin Republic. Rochester: Boydell & Brewer
Till, K. E. (2004). Emplacing memory through the city: The New Berlin. GHI Bulletin 35 73-83.
Till, K. E. (2012). Wounded cities: Memory-work and a place-based ethics of care. Political Geography 31, 3-14.
Torbakov, I. (2011). History, memory and national identity: Understanding the politics of history and memory wars in Post-Soviet lands. Demokratizatsiya, 19(3), 209-232.
Tumarkin, M. M. (2005). Traumascapes : the power and fate of places transformed by tragedy. Carlton, Vic.: Melbourne University Publishing.
Wilson, J. K. (2002). Nature and nation: The "German forest" as a national symbol, 1871--1914. (Doctoral Dissertation), University of Michigan, Ann Arbor.
Whybrow, N. (2001). Leaving Berlin. Performance Research, 6(1), 37-45.
Wolde, C. (2017) Making memory: Culturescapes and the communication of archaeological meaning. In R. Bernbeck, K. P. Hofmann & U. Sommer (Eds.), Between Memory Sites and Memory Networks: New Archaeological and Historical Perspectives (pp. 315—339). Berlin: Edition Topoi.
Young, J. E. (2000) The Texture of Memory: Holocaust Memorials and Meaning. New Haven: Yale University Press.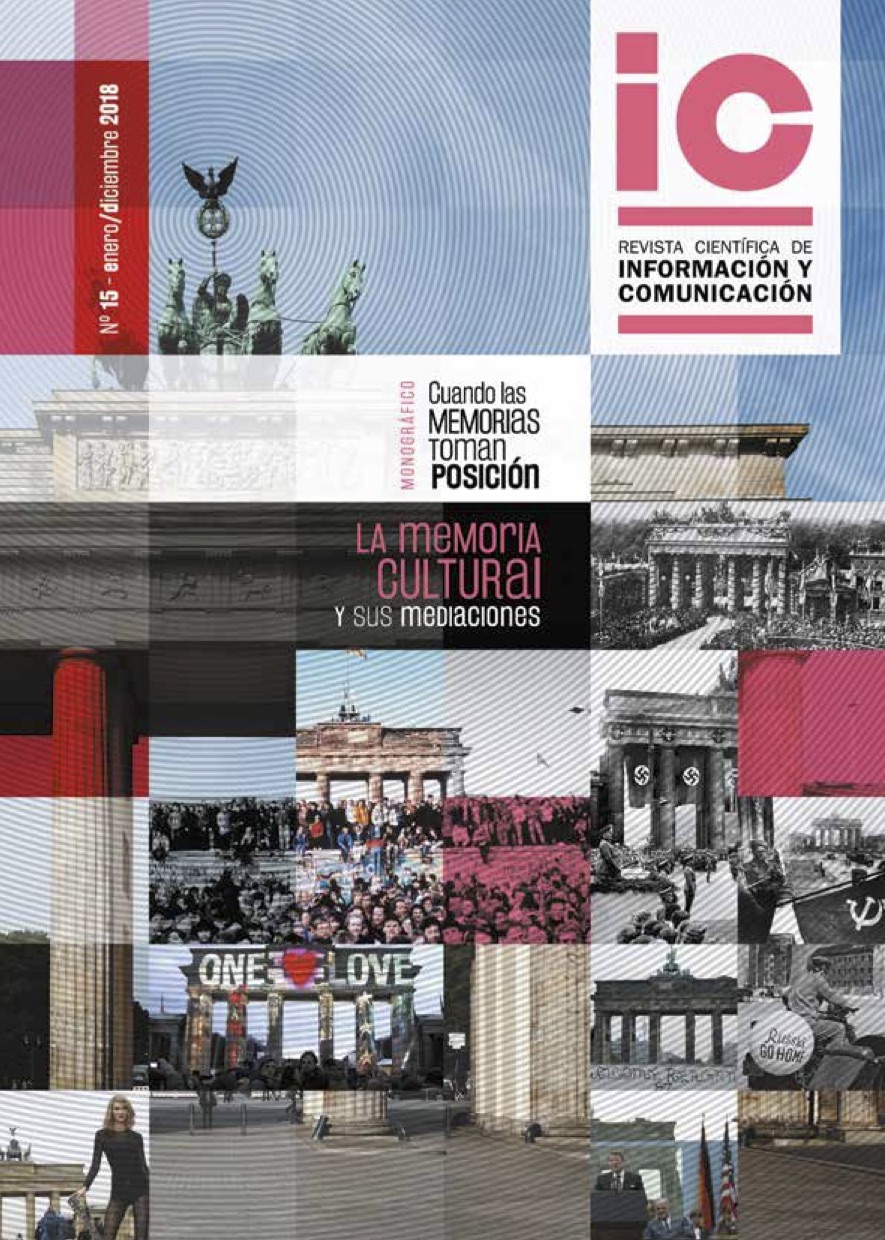 Descargas
Cómo citar
Florence, E. (2018). Archaeological digs and berlin's urban environment: Remembering and forgetting the traces of the Second World War. IC Revista Científica De Información Y Comunicación, (15). Recuperado a partir de https://icjournal-ojs.org/index.php/IC-Journal/article/view/417