Augmented Reality and Journalism: 10 use-case analysis from television, printing and web media platforms
Resumen
Augmented reality has inaugurated new developments that enable the creation of content of various kinds. Based on the case study methodology, the work analyzes 10 successful experiences of using augmented reality linked to television, the press and digital media. The investigation concludes that the use of augmented reality without a journalistic purpose can harm the media.
Citas
Azuma, RT (1997a) A Survey of Augmented Reality. Presence: Virtual and Augmented Reality 6 (4): 355 - 385.
Azuma, RT (2017b) Making Augmented Reality a Reality. Applied Industrial Optics: Spectroscopy, Imaging and Metrology (paper JTu1F.1):1-3.
Branch, J (2018). Augmented Reality: Four of the Best Olympians, as You've Never Seen Them. The New York Times. Available at: https://www.nytimes.com/interactive/2018/02/05/sports/olympics/ar-augmentedreality-olympi c-athletes-ul.html (accessed 12 March 2019).
Curcurito, D (2009) Behind the scenes of Augmented Esquire. Esquire
Available at: https://www.esquire.com/news-politics/news/g371/augmentedreality-technology-110 909/?slide=1 (accessed 13 March 2019).
Domínguez, E (2012) Medios de comunicación masiva. México: Red tercer milenio.
Editorial. TIME's 'Optimist' Issue in Augmented Reality. TIME Magazine 4 January, 18.
Editorial. TVE, Antena 3 y TV Canaria confían en Brainstorm para la noche electoral (2015) Panorama Audiovisual. Available at: https://www.panoramaaudiovisual.com/2015/05/25/tve-antena-3-y-tv-canariaconfian-en-brainstorm-para-la-noche-electoral/ (accessed 25 march 2019).
Feldman, B (2019) The Best Use of Augmented Reality Right Now Is the
Weather Channel's. Available at:
http://nymag.com/intelligencer/2019/01/the-weather-channels-augmented-realitysegments.html (accessed 20 March 2019).
Gentile, Bill (2015) Fotógrafo / Periodista Bill Gentile en Nicaragua. In: U.S Embassy Managua. Available at: https://ni.usembassy.gov/es/fotografo-periodista-bill-gentile-en-nicaragua/ (accessed 20 march 2019).
Larrondo Ureta, A and Teixeira, J (2016) La convergencia narrativa en el periodismo móvil. Aproximación a la integración del contenido audiovisual en los productos nativos para iPad, Estudios sobre el Mensaje Periodístico 22 (2): 777-792.
López, X and Pereira, X (2010) Convergencia digital. Reconfiguración de los Medios de Comunicación en España. Spain: Universidad Santiago de Compostela.
Machado, E and Gadini, SL (2018) La innovación como eje estratégico en el desarrollo periodístico. Pauta Geral-Estudos em Jornalismo 5 (2): 271-280.
Martinchuk, E (2010) Periodismo Mochilero. Available at: https://www.pagina12.com.ar/diario/laventana/26-157842-2010-12-01.html (accessed 18 February 2019).
Milgram, P and Kishino, F (1994) A taxonomy of mixed reality visual displays. IEICE TRANSACTIONS on Information and Systems 77 (12): 1321-1329.
Otzen, T and Manterola, C (2017) Técnicas de Muestreo sobre una Población a Estudio. International Journal of Morphology, 35 (1): 227-232.
Parra Valcarce, D, Edo Bolós, C and Marcos Recio, JC (2017) Analysis of the application of augmented reality technologies in Spanish mass media productive processes. Revista Latina de Comunicación Social 72 (16): 1670 -1688.
Peñafiel Saiz, C (2016) Reinventing journalism in the digital ecosystem and transmedia storytelling. adComunica: revista científica de estrategias, tendencias e innovación en comunicación (12): 163.
Prendes Espinosa, C (2015) Realidad aumentada y educación: análisis de experiencias prácticas. Pixel-Bit: Revista de Medios y Educación (46): 187-203.
Reyes, T (1999) Métodos cualitativos de investigación: los grupos focales y el estudio de caso. Fórum empresarial 4 (1): 74-87.
Simons, Helen (2011). El estudio de caso: Teoría y práctica. Spain: Ediciones Morata.
Stein, S and Sherr, Ian (2019) Why AR is going to give you 'Superpowers' in the future. In: CNET. Available at: https://www.cnet.com/news/the-future-of-ar-according-to-microsoft
Telefónica, F (2011) Realidad Aumentada: una nueva lente para ver el mundo. Spain: Fundación Telefónica.
Tejedor, S (2006) La enseñanza del ciberperiodismo en las licenciaturas de periodismo en España. PhD Thesis, Universitat Autònoma de Barcelona, Spain.
USDOD - U.S. Department of Defense (1999) Development of interactive multimedia instruction.
Webb, A (2019). Future Today Institute Tech Trends Report 2019. Report Future Today Institute, US, January.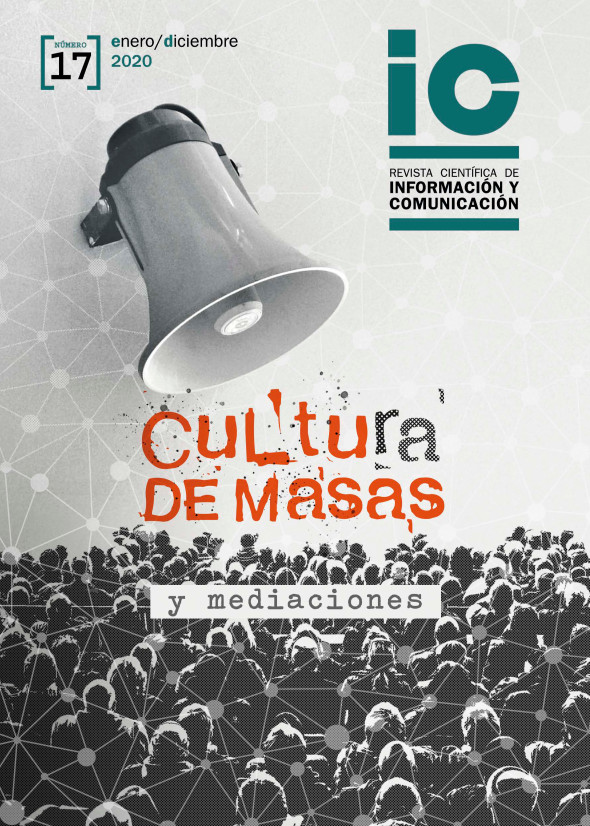 Descargas
Publicado
2020-12-28 — Actualizado el 2021-12-02
Cómo citar
Tejedor, S., Cardona, N., & Cervi, L. (2021). Augmented Reality and Journalism: 10 use-case analysis from television, printing and web media platforms. IC Revista Científica De Información Y Comunicación, (17). Recuperado a partir de https://icjournal-ojs.org/index.php/IC-Journal/article/view/546 (Original work published 28 de diciembre de 2020)